Youth Series 2019
COUNT DOWN TO YOUTH SERIES 2019, 7 December 2019!

With the sport of Darts becoming increasingly popular in the past few years, the DARTSLIVE Academy for Youth and i Darts X were formed to cater to the growing need to encompass a new generation of darters, where their talents could be cultivated from a younger age and enable them to rise higher and aim further than previous generations.
Good sportsmanship and etiquette are also encouraged to maintain the welcoming environment that keeps so many players in the game, and are doubtlessly important values to carry in any social interactions.
In that light, welcome to the Youth Series, a new collaboration between the DARTSLIVE Academy for Youth and i Darts X!
With its renewed focus on organized dart competitions for a new generation, the Youth Series promises to be the first premier platform for younger darters to showcase their talents and challenge other like-minded darters in the spirit of sportsmanship and self-development.
Date : Saturday, 7 December 2019
Venue : i Darts X (Big Mac Centre)
Check-in Time:
11AM (U21 & U17)
3PM (Intervarsity)

3 Divisions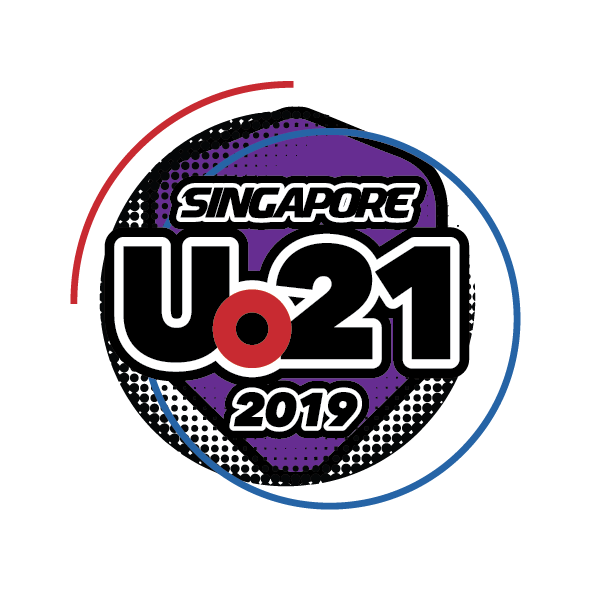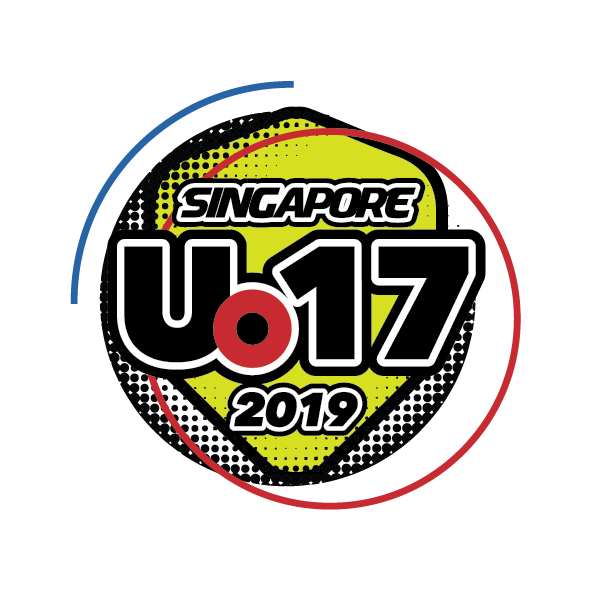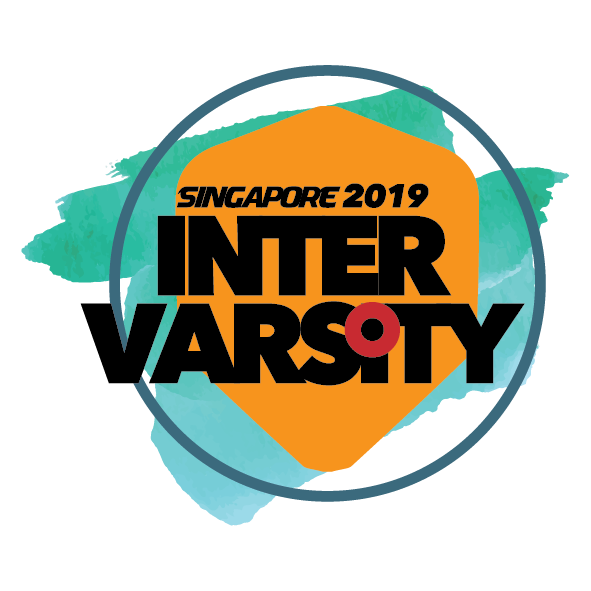 Full Time Students
18 - 21 years old
Full Time Students
17 years old & below
Full Time Students
22 years old & above
Entry fee : $20
(Inclusive of $10 DARTSLIVE Credits + 10% merchandise voucher at outlet/E-Shop)
Game Format
Round Robin → Single Knock Out
U21 : 701 - CRI - CH (OI/ OO)
U17 : 501 - CRI - CH (OI/OO)
Intervarsity : 701 - CRI - HALF IT (OI/OO)
*Top 2 players of each Round Robin will advance to Single Knock Out
Open to all players, with a valid Full-Time Student Card
Min. 16 players each Division

Round Robin

A round-robin tournament (or all-play-all tournament) is a competition in which each contestant meets all other contestants in turn. Top 2 players with the highest point from each group will advance to Single Knock Out (SKO).
*The ranking for the Round Robins will be determined according to the following rules.
1) Number of winnings (Number of MATCHES won)
2) Number of LEGS won
3) Number of LEGS lost
4) If three or more players are tied on (1)-(3), each player will play a LEG of COUNT-UP. The winner of the COUNT-UP will proceed to the Final Tournament.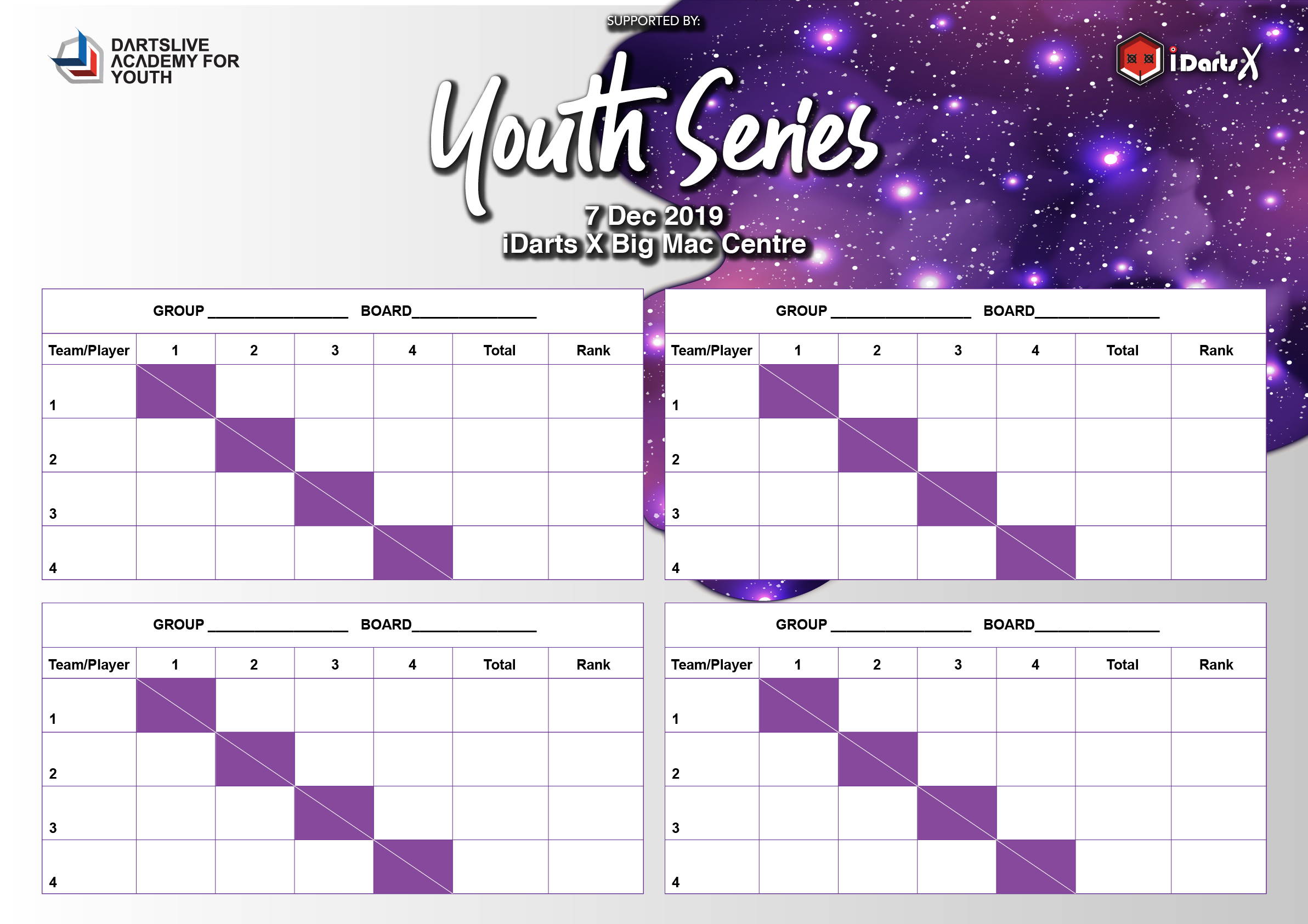 Single Knock Out
A single-knock out tournament is a type of elimination tournament where the loser of each match-up is immediately eliminated from the tournament. Each winner will play another in the next round, until the final match-up, whose winner becomes the tournament champion.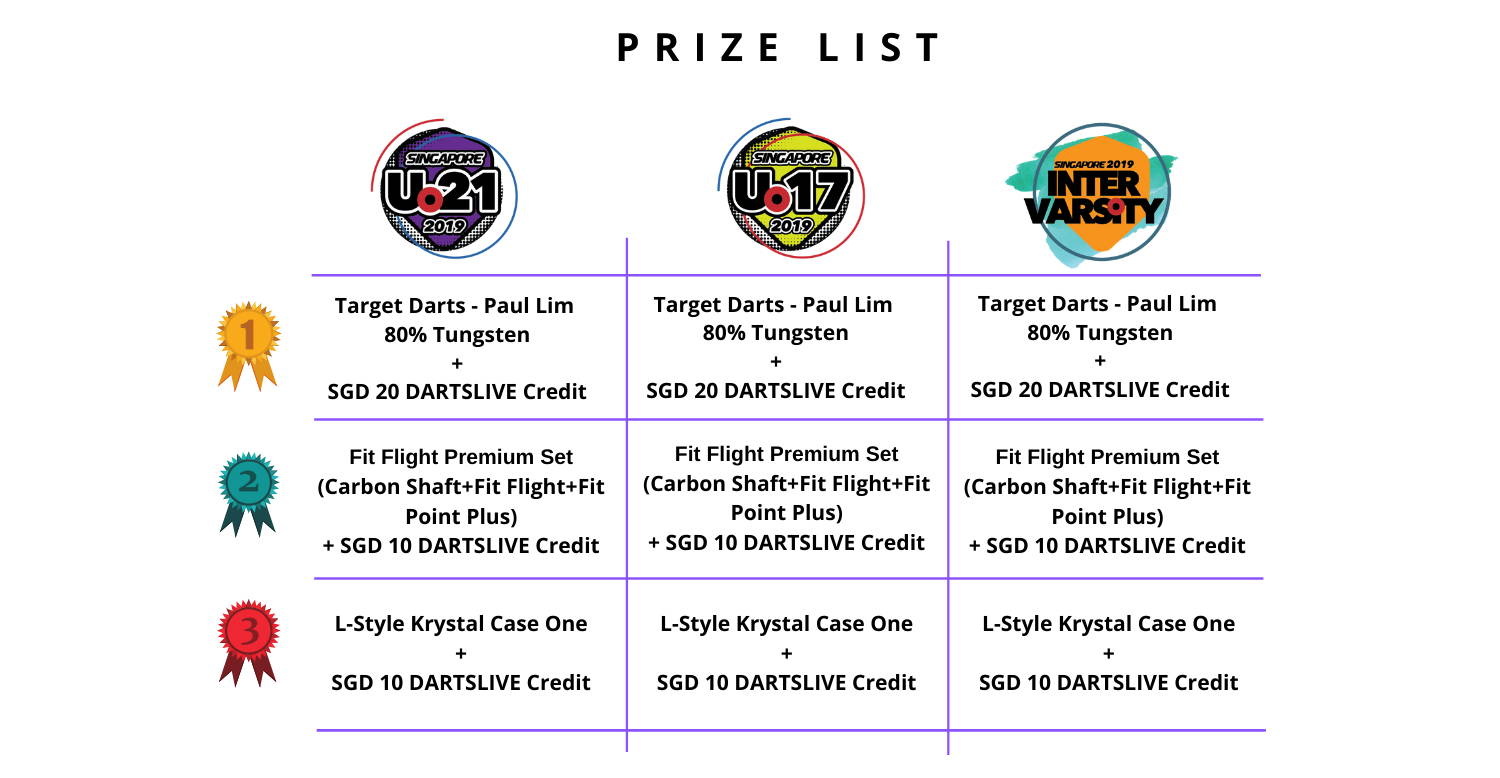 SCHEDULE - YOUTH SERIES 2019
11:00hrs Check in (U21 Division & U17 Division)

13:30hrs Game On
16:30hrs Prize Presentation
15:00hrs Check in (Intervarsity Division)

15:30hrs Game On
18:30hrs Prize Presentation
Sleeved Shirts
Bermuda Shorts
Knee-Length Skirt/ Pants
Covered Shoes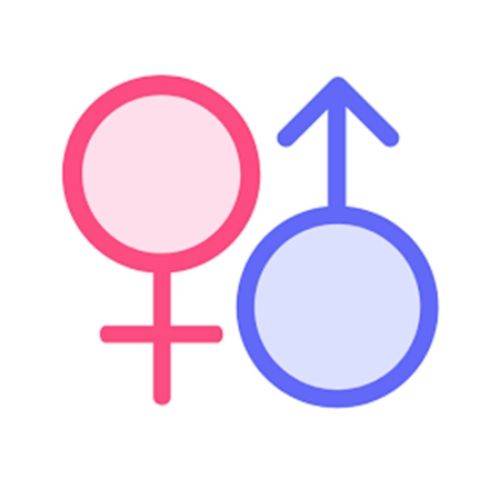 Sleeved & Collared Shirts
Pants
Covered Shoes
I. Offer a firm and respectful handshake with all players involved before and after each match.
II. Be respectful of the staff, venue and equipment.
III. Remain silent when opponent is readying or making a throw.
IV. Stand at least 3ft behind the throw line and outside the line of sight when a player is throwing.
V. Walk only on either side of the path of throw after dart retrieval for each round.
VI. Use of any foul language, swearing, making of racist or sexist comments are strictly prohibited.
VII. Pay close attention to the pace and order of the game.‍
VIII. Strictly follow rules on time allocation allowed for each turn.
IX. Stay within the parameters of designated dartboard when game is in progress.
X. Allow players to focus and concentrate during the match without any compromising behaviour.
XI. Be a gracious competitor and exemplify good sportsmanship.
TOURNAMENT RULES & REGULATIONS
1. Eligibility
1.1. All participants are required to have a valid DARTSLIVE Card to be eligible for this tournament.
1.2. Participants are required to use the same DARTSLIVE Card throughout the duration of the tournament (I.e. Qualifying Stages and Grand Final)
1.3. The Organizer reserves the right to accept or reject any entry as they deem fit.
2. DARTSLIVE Card/App
2.1. Participants are advised to download the DARTSLIVE App from the App Store/Google Play and have their cards logged in.
2.2. It is mandatory for all participants to note down their 16-digit Card No. and Login PIN. In the event of any loss of card, the player must transfer their data from the old card to a new card and inform the Organizer at askx@idarts.com.sg, in order to continue playing in this tournament.
2.3. Vulgarities, sexists, humiliating, racists, insulting, offensive, etc. words are not allowed to be used for Card Names and Catch Phrases. Failure to abide by this rule may result in the player being disqualified.
3. Check-in Procedure
3.1. All participants are to check-in personally at the registration desk during the respective, scheduled check-in time with their valid Student/Matriculation Card for verification purposes. Failing which, he/she will be disqualified.
4. Game Rules
4.1 Cricket
I. In a game of Cricket, an Overkill situation occurs when a player is ahead by 200 or more points. This means that no points are awarded even if the leading player hits a scoring number. As a matter of courtesy to your opponent, an Overkill situation is not advisable.
II. In a TIE situation, where game ends at 15th round with both players having the same score:
a. The player who closes all the houses wins the game, OR
b. If all the houses are not closed, both teams will do a "Bulls-Up", follow the same sequence as the tied leg. The player with dart closes to center bull will win the leg.
4.2 Normal x01
III. In a TIE situation where both players are unable to check out,
a. Select player with lowest points as winner.
b. If both players have the same points left, both players will do a "Bulls-Up", follow the same sequence as the tied leg. The player with dart closes to center bull will win the leg.
5. Error in Scoring
5.1 The segment where a dart sticks establishes the score for that dart thrown. If machine displays a different score, players must use the "Reverse-a-Round" feature to edit the score.
5.2 If the dart sticks but the machine does not record score, players must immediately press the dart into the segment for the machine to register the score.
5.3 If a dart hits the board and immediately falls to the floor, the displayed score stands as it is, even if machine does not record any score.
5.4 If the dart sticks but the machine did not record score and players continues to throw 2nd/3rd dart, should the dart fall to the floor, the displayed score stands as it is, even if the machine does not record the score.
6. Matters Not Provided For
Any matters arising that are not covered in these Tournament Rules & Regulations will be decided upon by the Organizer.

"Organized in support of DARTSLIVE Academy for Youth (D.A.Y.), a new youth initiative that is in
the pipeline, by DARTSLIVE Singapore"