i Darts ACE COUNT-UP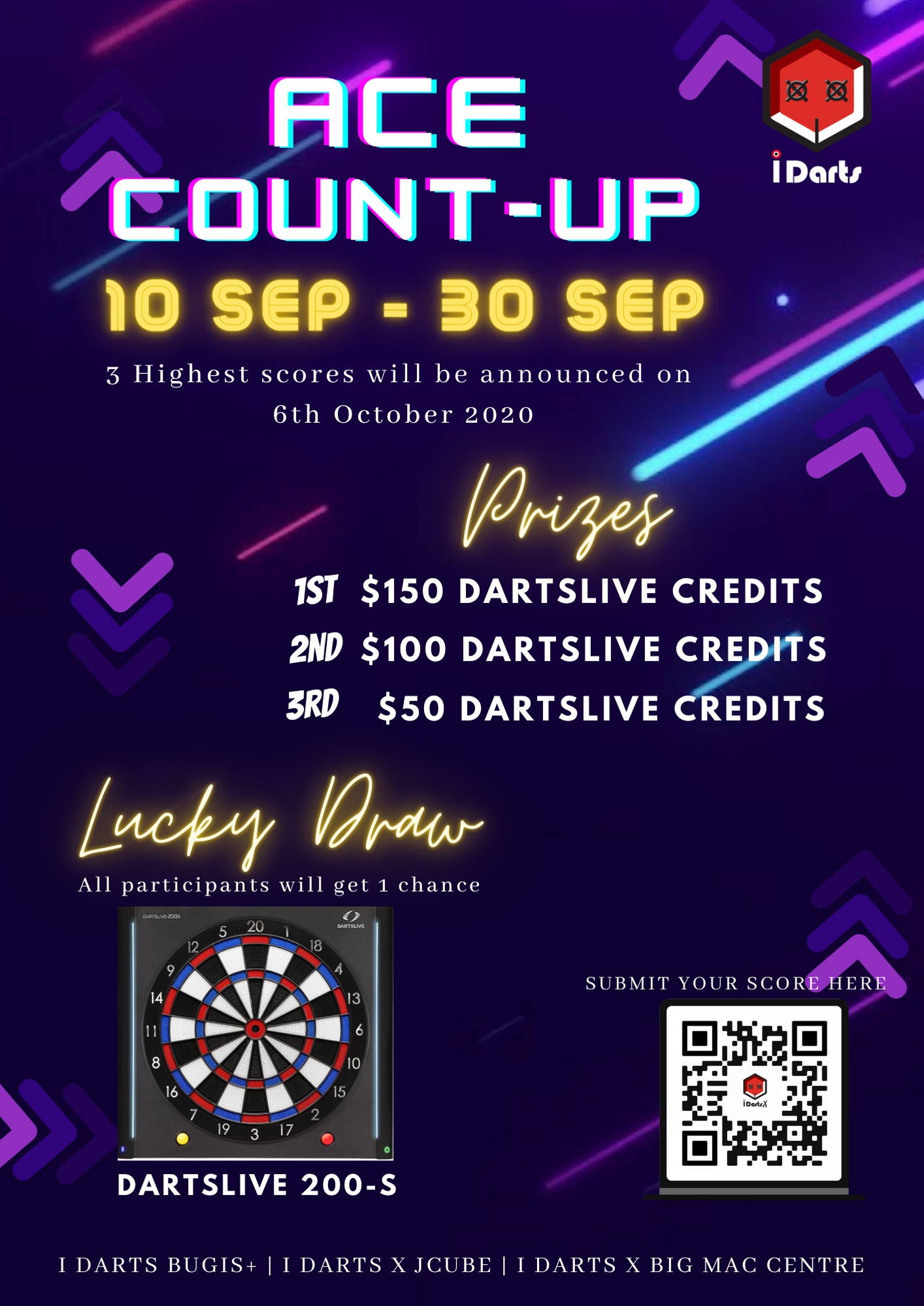 Another breakout event is here💥 i Darts ACE Count-Up 💥
Wanna win DARTSLIVE Credits?
You just need to play Count-Up game at i Darts/ i Darts X locations starting 10 September!
Just follow the steps below:
STEP 1 : Play Count-Up game
STEP 2 : Take a picture of your Count-Up score
STEP 3 : Scan QR code that has been placed on all the darts machines and submit your highest score!
Valid at:
▪️i Darts Bugis+
▪️i Darts X (Big Mac Centre)
▪️i Darts X (JCube)
Campaign starts from 10 September - 30 September 2020!
All participants will be entitled to 1 chance to Lucky Draw to win
DARTSLIVE 200-S (worth $328)
The best part is, the concept of the game is designed for players of all capabilities - they will apply a standard handicap rule so whether you're a newer or seasoned player, you will have a definite shot at the grand prize!
Handicap is provided as: 40 points per Rating difference from Rating 18 added to their score.
E.g. A player with Rating 5 with have the following handicap: (18 – 5) x 40 = 520 added. If they scored 300, their total score will be 520 + 300 = 820.

3 Highest Score Winners by the end of the campaign will walk away with:
1st Place - $150 DARTSLIVE credits2nd Place - $100 DARTSLIVE credits3rd Place - $50 DARTSLIVE credits
Winners will be announced on 6th October 2020

🎯 All players must submit their true rating in the form. Players with fraudulent information will be disqualified.
🎯 This period campaign only valid from 10th - 30th September at the stated i Darts/ i Darts X locations.
🎯 Winners to be announced in our social media on 6th October 2020, winners to collect the prizes at i Darts Headquarter.

🎯 To adhere to all Safety Regulations and Social Distancing applied in i Darts/ i Darts X locations.

🎯 i Darts reserves the rights to disqualified anyone who does not adhere to all of the regulations set by i Darts Management.